Chris McGrath
"At PCC, every instructor and staff member genuinely cares about our students. We build relationships here. Our students are not just a number."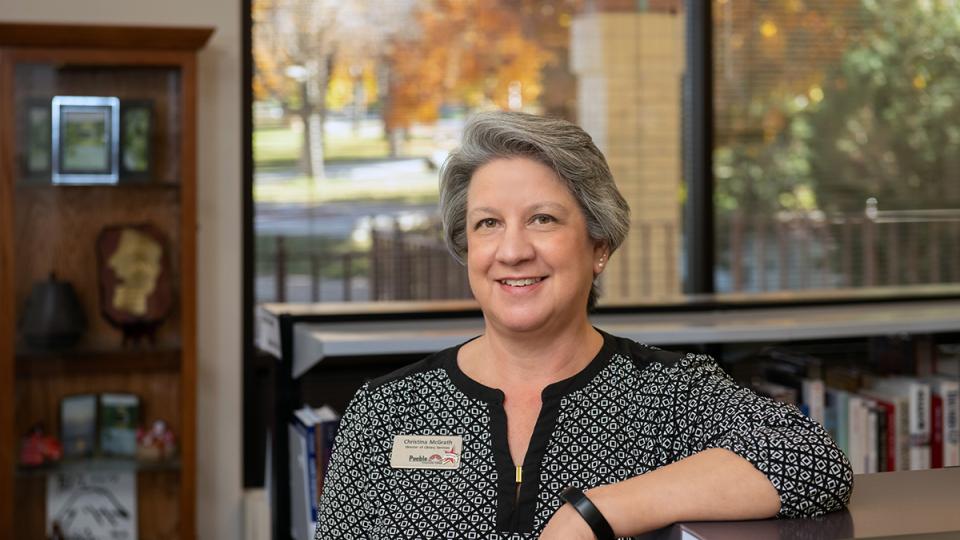 Chris McGrath not only is a first-generation college graduate, she's a PCC alum and one more example that everyone's path to college is unique.
"In high school in the 1970s, there was no one who encouraged me to further my education," she said. "College held no appeal for me, but I think that's because I didn't understand the value of it. I just graduated and went straight into the workforce, making meager wages.
Eventually, McGrath needed to go to college to earn a certificate that was a requirement for her job in a school library. At that point, she was in her 40s, married, and a mother of three, but she quickly embraced her new world and "immediately fell in love with learning at this level," she said.
After getting her Library Technician certificate and associate degree at PCC, she went on to earn a bachelor's degree in Information and Library Services from the University of Maine at Augusta and a master's in Library and Information Science from San Jose State University. 
As PCC's director of library services, McGrath now shares a world of knowledge every day with PCC's students, faculty and staff.
"At PCC, every instructor and staff member genuinely cares about our students. We build relationships here. Our students are not just a number," she said. "When they get to graduation, they have more than their family and friends cheering for them. They have each and every one of us cheering, as well."
For those deciding whether to enroll at PCC, McGrath has simple, solid advice.
"Ask lots of questions. Go through New Student Orientation and take time to visit the campus, even if you're an online student," she said. "See what services and resources are included in your tuition or are provided at no cost – and then take advantage of them."
Above all, "Don't quit, or if you do have to quit like I did for a while, commit to returning and completing your education. Education opens doors and can be a pathway out of poverty and difficult life situations. For me, each degree opened many doors and opportunities."