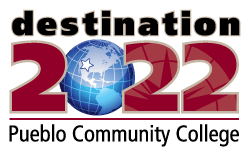 "Imperatives for Student Success"
This initiative documents for all stakeholders of Pueblo Community College a renewed three-year Strategic Plan that not only addresses the challenges facing higher education in the State of Colorado but reaffirms an unconditional commitment to students, faculty and staff, taxpayers and other benefactors.
The mission, vision, and core values of Pueblo Community College were scrutinized to ensure that the institution's ideals, passion, and dedication were articulated in a manner that personified our ability to provide the best continuum of post-secondary academics and technical training in our service area and perhaps the nation! From here, the roadmap is well-defined. The Imperatives and Strategies, as outlined, have been thoughtfully identified and collectively aligned with:
The Higher Learning Commission's Accreditation Criteria
The nine Academic Quality Improvement Program (AQIP) Categories
The Colorado Community College System Five-Year Strategic Plan
The Colorado Commission of Higher Education's Master Plan and the impending Performance Funding Measures
This Strategic Plan was built with input from faculty, staff, students, civic leaders, and business partners alike. As you review this document, you will become aware of the cohesive thumbprint of a diverse group of individuals focused on student success. This institution is well-poised for academic greatness - as evidenced by the imperative direction of increased student retention and success. I am committed to leading this institution to national recognition by working side by side with great faculty, staff, and community advocates. Please join me as we look for great things to come for (and from) the students of Pueblo Community College!
Dr. Patricia A. Erjavec, PhD
President, Pueblo Community College