PCC Welcomes Veterans, Current Military, and Dependents
We welcome you to Pueblo Community College where your service is recognized and appreciated. Most importantly, we want to thank you for your service to our country and the sacrifices you have made, and continue to make, to ensure our freedom and way of life.
Get one FREE 3-credit class!
Interested in taking a FREE class? PCC President Patty Erjavec is offering new students who register for classes 3 free credits with her 3 on Me offer. We hope you will accept this special offer to take the first step toward your success at PCC. To qualify, you simply need to be a Colorado resident and be eligible for the College Opportunity Fund program. To accept this offer, simply apply to PCC. We'll take care of the rest!
Don't wait – classes start soon!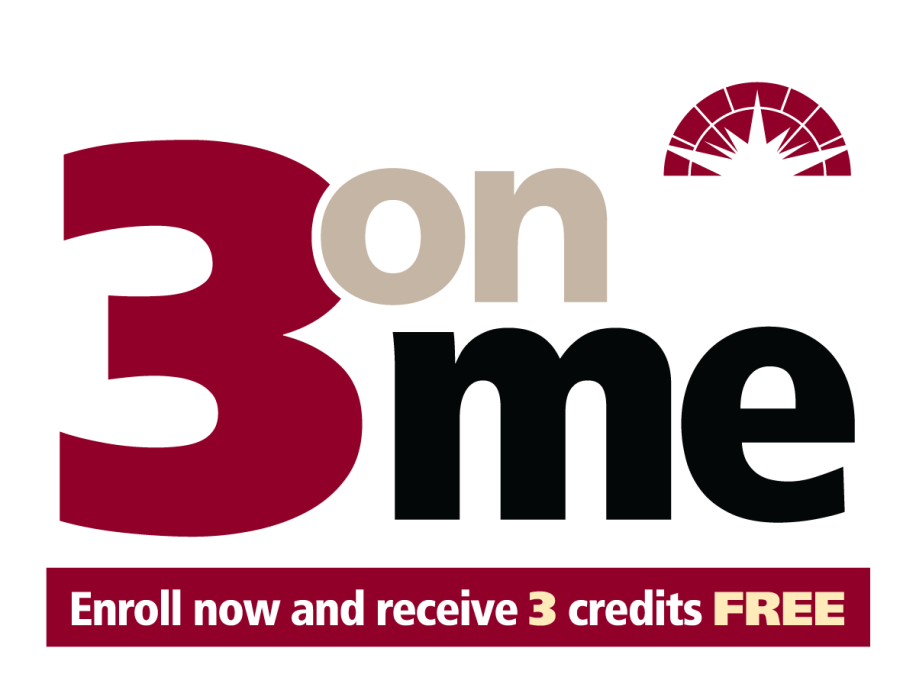 Why PCC?
Check out our viewbook to learn some cool facts about Pueblo Community College. We think you'll see why PCC is worth it!
Getting Started
Applying for VA Benefits
Veterans Assistance
Getting Started at PCC - Veterans
Apply for Admission.
You can come to any of our campuses to complete the admission process or you can complete the process online.
Apply for the College Opportunity Fund.
The State of Colorado will pay a portion of each eligible undergraduate student's tuition. Apply for COF online.
Apply for Financial Aid.
Your FAFSA application determines your eligibility for low- or no-interest student loans as well as state and other federal grants. Apply for FAFSA online.
Compile all transcripts from previous colleges and any military training that can be evaluated for transfer credit and send them to the PCC Records Office. Hand carried transcripts are not accepted.
Take the Pre-Assessment test.
This is a quick evaluation of your basic skills that helps your advisor, and you, know where your college education should start.
Contact your Educational Services Officer (ESO) or counselor within your Military Service prior to enrolling.
Consult with an academic advisor and register for classes.
Consult with Veterans Upward Bound (VUB) – telephone 719-549-3077.
Contact the VA Certifying Official at 719-549-3013.
Email your schedule to Veterans.pcc@pueblocc.edu or bring it to the Go! Zone.
Visit www.gibill.va.gov for up-to-date information on this and other education benefits.
Got Questions? Contact the PCC Admissions Office at 719-549-3013.
Applying for VA Benefits
While you are the only person who can choose which program meets your needs, the VA has developed a step-by-step process that may help you compare the different education programs and decide which is best for you.
VA Education Benefit Chapters
For all the below VA benefit chapters, please provide a Certificate of Eligibility and a copy of your class schedule to the school's Veteran's Certifying Official.
Chapter 33: Post 9/11
Apply using VA Form 22-1990.
Chapter 30: Montgomery GI Bill®
Apply using VA Form 22-1990.
Chapter 35: Survivors' and Dependents' Educational Assistance Program (DEA)
Chapter 31: Vocational Rehabilitation Program
Consult with your local Community Veteran's Service Officer.
This chapter is for veterans who are disabled and are receiving benefits through Vocational Rehabilitation, Department of Veterans Affairs.
Your Chapter 31 counselor needs to notify the PCC VA certifying official once you have been awarded the benefit.
Chapter 1606: Montgomery GI Bill® - Selected Reserve Educational Assistance Program
Apply using VA Form 22-1990, supply NOBE.
Chapter 33: Transfer of Benefits
Our office needs a copy of your DoD approval.
Veterans Benefits and Transition Act of 2018
GI Bill® students will not be penalized or prohibited from attending or participating in courses while awaiting VA payment (for up to 90 days from the date the beneficiary provides a certificate of eligibility, or valid VAF 28-1905) as required by Section 103.
Military Tuition Assistance
Tuition Assistance (TA) is a Department of Defense (DoD) program. VA does not administer TA. TA rules vary by branch of service and may differ between components within the branches depending on whether the service is Active Duty, Reserve, or National Guard.
Each branch has its own criteria for eligibility-obligated service, application process, and restrictions. These funds are usually paid directly to the institution by the individual services. TA is not a loan; the student should view TA as money earned just like base pay.
Each student is responsible for confirming eligibility and completing the process with the specific military branch.
Let PCC know if you are planning on using (TA)
Submit TA Authorizations to the PCC Third Party Billing Specialist. 
Questions, call 719-549-3370 or cashier@pueblocc.edu. 
Your service's education center must approve your military tuition assistance before you enroll in a course.
Transfer students should submit official transcripts to the PCC Records Office as soon as possible, PCC's process for evaluating transcripts can be found here Transfer Students.
Schedule a meeting with an academic advisor for an evaluated degree plan 719-549-3177.
For general questions, contact Laura Lucero at 719-549-3014 or at laura.lucero@pueblocc.edu. 
Visit the Student Veteran Lounge
The Student Veteran Lounge at Pueblo Community College serves as a location on the Pueblo campus for the PCC military community to mentor and motivate one another, gather for camaraderie, and assist each other with Veteran related issues or concerns. Veterans can stop by and visit with Veterans Upward Bound, work on homework, or have a cup of complimentary coffee in between classes. The Veteran Lounge can be reached at 719-549-3077 and is open from 9am – 4pm Monday through Friday.