Get one FREE 3-credit class!
Interested in taking a FREE class? PCC President Patty Erjavec is offering new students who register for classes 3 free credits with her 3 on Me offer. We hope you will accept this special offer to take the first step toward your success at PCC. To qualify, you simply need to be a Colorado resident and be eligible for the College Opportunity Fund program. To accept this offer, simply apply to PCC. We'll take care of the rest!
Don't wait – classes start soon!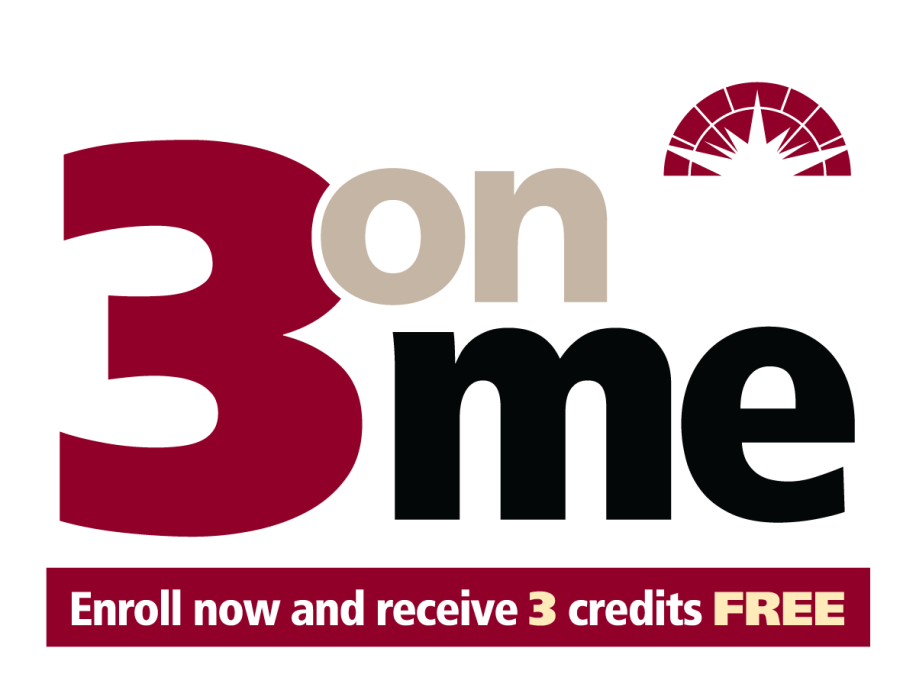 There are dozens of scholarships available through PCC to help pay for your college education. Each scholarship has its own requirements and deadlines. 
Explore this page to discover the many opportunities that are available to PCC students.
PHEF
The Pueblo Hispanic Education Foundation scholarship is available to students, regardless of race, who graduated from a Pueblo County or Pueblo City high school or earned a GED certificate from a Pueblo institution. An application and essay are required to apply for this scholarship.
PAACO
The Pueblo African-American Concern Organization scholarship is available to any student, regardless of race, who graduated from southern Colorado high schools or has recently attended Pueblo Community College or Colorado State University Pueblo and is pursuing their first college degree. An application and essay are required to apply for this scholarship.
PCC Foundation scholarships
The PCC Foundation is committed to awarding scholarships based on academic ability, specific educational interests, talent and, in some cases, need. Each scholarship awarded by the foundation has its own application guidelines and selection process.
Other Scholarship Opportunities
Many private organizations offer scholarships to college students. A private scholarship search engine like those listed below can help you locate many of these opportunities.
If any scholarship service requires a payment or charges a fee, or claims that you are guaranteed at least a small award, do not continue. Scholarships and grants are free so any application should also be free.
It is recommended that you create a separate email account to use only for making inquiries with scholarship search sites because they can generate a large number of emails.
Private Scholarships
Latin American Educational Foundation (LAEF) Scholarship
The Peck Law Firm Scholarship
Scholarship search sites
Pueblo City Schools
UNIGO
College in Colorado
FastWeb
Scholarships.com
College Gold
U.S. Department of Education
U.S. Coast Guard
College Resource Network
Finaid.org
Student Scholarship Search
ZipRecruiter
Frequently Asked Questions
Scholarships are classified as gifts and do not need to be repaid. They are awarded on the basis of academic achievement, financial need or a combination of the two. Many scholarships have additional requirements, as well. For example, you may have to be a resident of a particular state, be involved in extracurricular activities, have a special talent, or be pursuing a specific major.
In order to understand how scholarships and financial aid work together, you must first understand a few core concepts about the financial aid system.
To apply for financial aid and need-based scholarships, you must complete the Free Application for Federal Student Aid (FAFSA). The FAFSA will determine your Estimated Family Contribution (EFC), which is the amount that you (and your family) are projected to be able to contribute towards your educational expenses for the year.
Your Cost of Attendance (COA) is what PCC expects it should cost for tuition, fees, books, travel and miscellaneous costs for the nine-month academic year (August through May).
Your EFC is subtracted from the COA and the difference is considered your financial need. Need-based scholarships, grants and loans can never exceed your financial need. The total of all of your aid may never exceed the total COA. If your aid exceeds this need or the COA, awards must be adjusted accordingly. Any scholarship you receive will be used to meet your COA for the year.
Institutional scholarships are awarded during the summer; however, aid is limited and may not be available. If an independent organization wishes to grant you a scholarship for use during a summer session, notify the PCC Cashier's Office at 719-549-3212 or cashier@pueblocc.edu.