Earn a health care credential at no cost!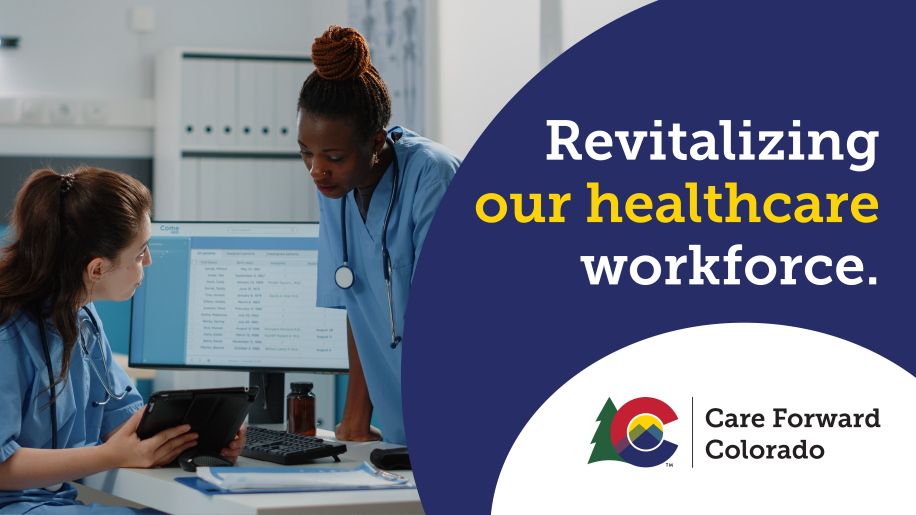 Students who enroll in specific short-term health care training programs at PCC will pay nothing, thanks to the new Care Forward Colorado program.
The qualifying programs available at PCC are:
Why PCC?
PCC's Nurse Aide program uses the latest online and classroom technologies available. Most faculty members are registered nurses with a wide variety of experience including hospital, long-term, and home health care. Our program is 123 hours in length – much more than the minimum federal requirement of 75 hours. This is so you will be work ready upon graduation. An online hybrid option is also offered which has theory/lecture online and labs at a PCC campus. PCC's certification exam pass rates are consistently above the overall state average.
What will I learn?
This program will teach you the basic skills and procedures needed to assist hospital patients, long-term care residents, and home health care clients with their daily living activities. 
To succeed in this program, you must have a sincere concern for people; good physical and emotional health; an excellent attendance record; an ability to communicate effectively with other health care personnel, patients and their families; and a neat, well-groomed appearance.
Note: Clinical agencies that are used during the program will require that you successfully complete a background check, drug screening, immunization series and CPR training. You must also carry malpractice insurance.
Professional Licensure Disclosure
The licensure requirements for Nurse Aide may differ between all 50 states and U.S. territories.  
Pueblo Community College (PCC) recommends each student visit National Nurse Aide Registries 
to identify the program requirements for each state in which you plan to live and practice.  
PCC can only guarantee that the requirements for the state of Colorado are met with our program. 
CNA License in Colorado. 
PCC has not determined if the Nursing Aide meets applicable state requirements for the following states and territories: Alabama, Alaska, Arizona, Arkansas, California, Connecticut, District of Columbia, Delaware, Florida, Georgia, Hawaii, Idaho, Illinois, Indiana, Iowa, Kansas, Kentucky, Louisiana, Maine, Maryland, Michigan, Minnesota, Mississippi, Missouri, Montana, Nebraska, Nevada, New Hampshire, New Jersey, New Mexico, New York, North Dakota, Ohio, Oklahoma, Oregon, Pennsylvania, Rhode Island, South Carolina, South Dakota, Tennessee, Texas, Utah, Vermont, Virginia, Washington, West Virginia, Wisconsin, Wyoming, American Samoa, Guam, Northern Mariana Islands, Puerto Rico, and the U.S. Virgin Islands.
Degree & Certificate Offerings in Nurse Aide:
Med Prep for Nursing Assistant Mini-Certificate