Why PCC?
PCC's faculty members are highly qualified in their respective fields of study. This program has courses taught by cross-function teams in the Psychology, English, Math, Biology, Criminal Justice, Health Professions, Certified Addiction Counseling and Psychiatric Technician departments.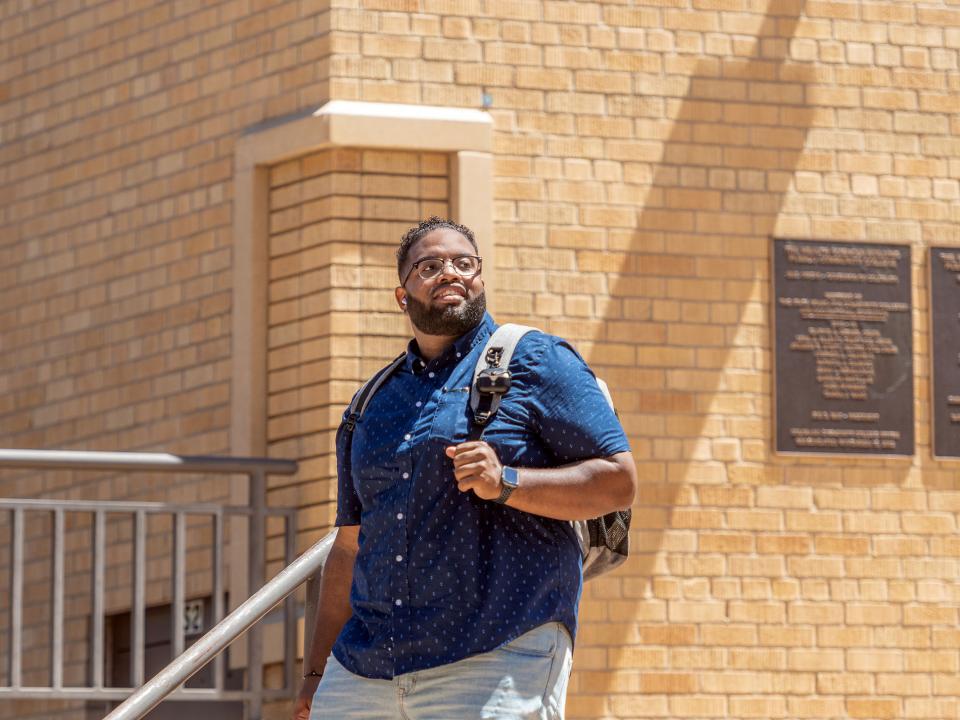 Behavioral Health Student
Brandon O'Reilly's experience working in the corrections industry made him realize he wanted a career that could help prevent people – particularly those with mental health issues – from becoming part of the prison system.
With that in mind, he started looking for education options and chose PCC's Behavioral Health program.
What will I learn?
PCC's Behavioral Health program is a degree option for those who are interested in human behavior, especially in a clinical or health related settings. You will study behavioral health concepts related to addiction and substance abuse, counseling, group dynamics and human development. The program will also cover current trends, best practices and the most up-to-date research findings.
As part of the Associate of Applied Science degree, you will complete coursework toward a Certified Addiction Technician (CAT) certificate.
If you wish to pursue a bachelor's degree after earning your AAS, all of your credits will transfer to the University of Colorado-Colorado Springs toward completion of a Bachelor of Arts in Human Services with a CAC emphasis. The UCCS degree includes the necessary clinical hours for you to earn your CAC I and II certifications from the Colorado Office of Behavioral Health.
Professional Licensure Disclosure
The licensure requirements for the Behavioral Health may differ between all 50 states and U.S. territories.  
Pueblo Community College (PCC) recommends each student visit the American School Counselor Association (ASCA)  to identify the program requirements for Colorado and each state in which you plan to live and practice.  
PCC can only guarantee that the requirements for the state of Colorado are met with our program.  
PCC has not determined if the Behavioral Health meets applicable state requirements for the following states and territories: Alabama, Alaska, Arizona, Arkansas, California, Connecticut, District of Columbia, Delaware, Florida, Georgia, Hawaii, Idaho, Illinois, Indiana, Iowa, Kansas, Kentucky, Louisiana, Maine, Maryland, Michigan, Minnesota, Mississippi, Missouri, Montana, Nebraska, Nevada, New Hampshire, New Jersey, New Mexico, New York, North Dakota, Ohio, Oklahoma, Oregon, Pennsylvania, Rhode Island, South Carolina, South Dakota, Tennessee, Texas, Utah, Vermont, Virginia, Washington, West Virginia, Wisconsin, Wyoming, American Samoa, Guam, Northern Mariana Islands, Puerto Rico, and the U.S. Virgin Islands.
Degree & Certificate Options in Behavioral Health: