Media/Visual Communications
Why PCC?
Careers in mass/media communications are highly competitive and PCC offers an affordable way for you to begin your education. Our discipline-specific courses average 20 students per class and are taught using industry standard software and equipment.
Our PCC Media Communications staff consists of professionals who are currently working for local media, broadcast and news organizations or are entrepreneurs. Many instructors have 20 or more years of experience in related fields, bringing current real-world experience straight into the classroom.
The PCC Center for New Media offers hands-on learning through work-study and internships, providing valuable broadcasting experience through the production of major events in Pueblo and the surrounding communities.
The Mass Communications Associate of General Studies degree degree is strictly intended for transfer to a four-year institution. The PCC Media Communications program maintains an articulation agreement with Colorado State University Pueblo, allowing students to transfer with junior (third-year) status after receiving an associate degree from PCC. The AGS degree focuses on the completion of General Education requirements and exposure to foundational skills in communications and media techniques. Transferability of courses to other institutions is at the discretion of the receiving university.
The Graphic Design program prepares you for an entry-level career in graphic design and production. The program will teach you to use current industry software to design and develop graphic elements which are produced for electronic and print communications. The integrated curriculum includes courses in fine art and design, graphic arts, computer layout and illustration, and small-business planning. Courses are taught on both PC and MAC platforms.
Graphic design is a highly competitive field and your key to starting a career is developing industry-demanded skills and a portfolio to showcase your talents as a layout artist, illustrator and/or website designer. Throughout the program, portfolio development and attaining the best business practices are emphasized with utmost importance.
The Web Design and Development program teaches you the necessary coding languages to build and maintain websites, mobile applications and other interactive multimedia. We go beyond the basics, adding the high-demand skills of database development, basic networking, aesthetics, and search engine optimization and analytics. This integrated curriculum includes courses in business, communication, design and project management. Our software applications are current with industry standards.
PCC also offers a Broadcasting & Production Technology Certificate.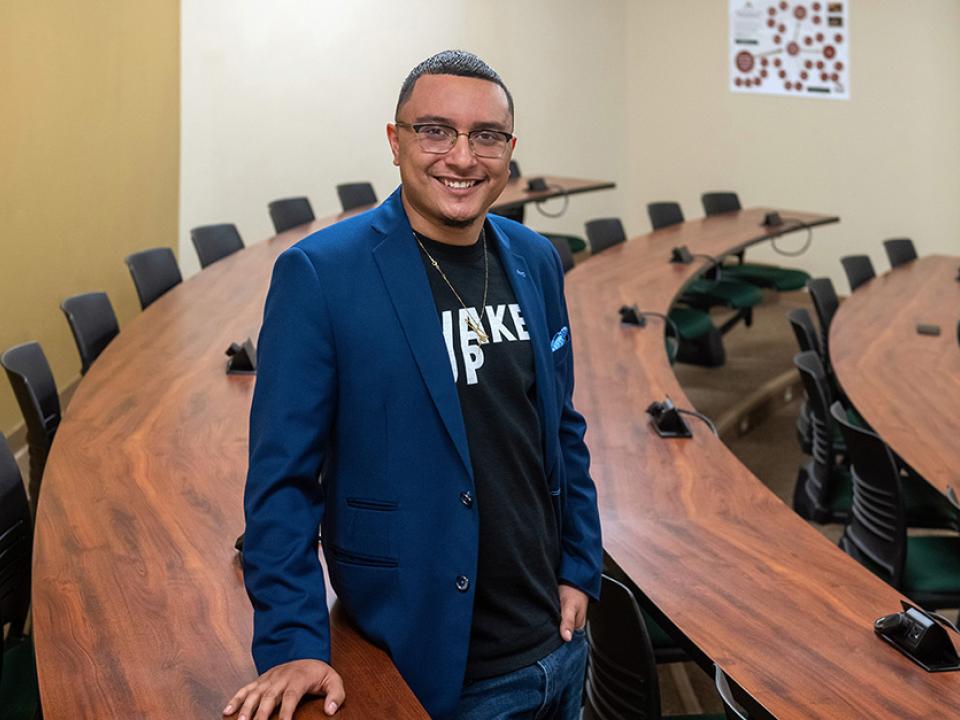 PCC Visual Communication Graduate
Pueblo Community College helped Jacob Rivera get a head start on his successful career.
"I got my first real-world experience in the industry with my internship at Pueblo School District 60, which turned into a four-year job for me as a junior graphic designer," said Jacob.
During his tenure with the school district, he helped with the rebranding of two schools, one department and the district itself, paving the way for his move to a local marketing company.
What will I learn?
This program teaches you to think critically and develops your skills in news writing, television/radio production, integrated marketing and advertising, videography, and web design. Our courses provide a solid foundation through a mixture of lecture and hands-on applications. Viral videos, breaking news, clever advertising and sports broadcasting are a few topics included the exciting and continuously evolving fields of media and communications.
A fully equipped video control room, and a mobile production truck provide you with state-of-the-art learning facilities on and off campus. Several nonlinear editing suites offer you a diversity of experience in the changing field of communication. You will also gain experience in production and digital media through our media lab and the many volunteer opportunities we offer.
Degree & Certificate Offerings in Fine Arts & Media Communications:
Art History, AA (with Designation)
Broadcasting & Production Technology Certificate
Introduction to Media Communications Mini-Certificate
Mass Communications, AGS (with Transfer Articulation Agreement)
Web Design and Development, AAS