Andrew Nunn
"The response to the esports club has been positive and I think it is due to us trying to create an environment that is inviting to all people."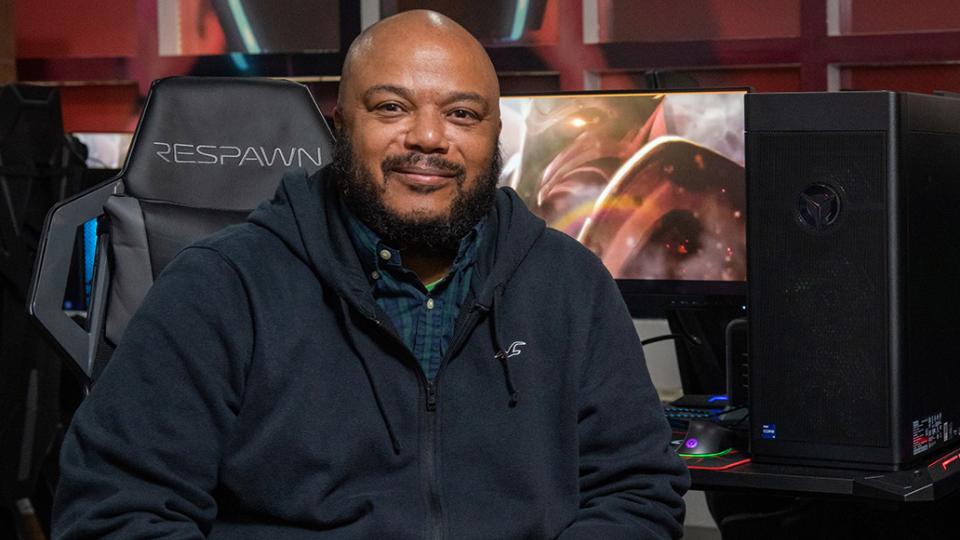 As coordinator of PCC's esports program, Andrew Nunn had the opportunity to build a new extracurricular offering for students – and when you're creating a lab for dedicated gamers, it helps to speak the language.
"I play Rocket League, Apex Legends, anything on the Oculus and Team Fortress 2," Nunn said, listing some of the games that are available for PCC students to play. "Being a gamer helps me relate to the student population. I can understand the ups and downs that come with gaming."
Nunn also coordinates PCC's tech pathways and is a part-time instructor in the Computer Information Systems department. He got his master's degree in teaching and learning, with an emphasis in K-12 educational technology and instructional design specialization, from Colorado State University Global.
The esports program started in 2021 and quickly is growing in popularity. Students have access to a state-of-the-art gaming lab in which they can play intramural or competitive games. It's not just for gamers, though: Students also can participate in related activities such as robotics, event planning, podcasting and shoutcasting.
"The response to the esports club has been positive and I think it is due to us trying to create an environment that is inviting to all people," Nunn said. "I hear a lot from the participators that the vibe in the lab is very chill and some students come in just to hang out. 
"I also like the fact that esports is a positive way to build a community," he said. "I think students will get an excellent additional experience if they participate because they'll gain new friends and learn how to work as a team. They will have the opportunity to compete in intercollegiate activities and represent PCC – and it's all free."
Related Articles
PCC cyber security team places 15th in national competition
PUEBLO – A group of students from Pueblo Community College took 15th place in a recent national cybersecurity competition that included more than 600 teams. PCC...
PCC, Security Innovation partner to boost cybersecurity curriculum
PUEBLO – Pueblo Community College has established a three-year philanthropic partnership with Security Innovation, a leading authority in software security...