Hailey Adame
"I always wanted to go into the medical field and I thought becoming a medical assistant would be a good first step to my career"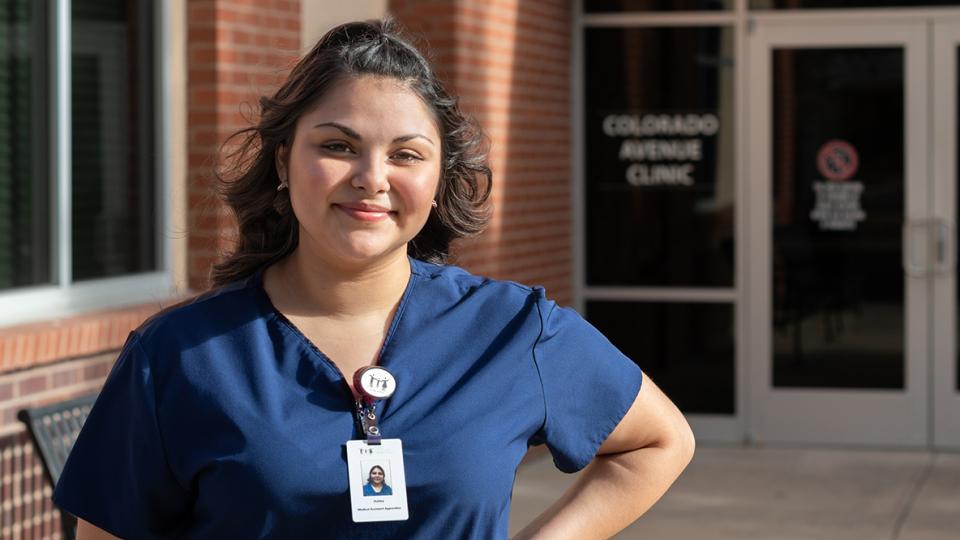 First-gen student thrives in PCC medical assistant apprenticeship
As one of the first students to enroll in the Pueblo Community College medical assistant apprenticeship program, Hailey Adame is discovering the many benefits of earning while she learns.
Adame, 19, is a first-generation college student. She enrolled in a four-year school right after high school but discovered that wasn't the right path for her.
"I thought I had to figure out what I wanted to do with my life right then and there and I ended up just overwhelming myself," she said. 
After moving back to Pueblo, she learned about the PCC apprenticeship from her grandmother and knew it was an opportunity she couldn't ignore.
"I always wanted to go into the medical field and I thought becoming a medical assistant would be a good first step to my career," said Adame.
Medical assistants are a liaison between physicians and their patients. They perform clinical and administrative work in doctors' offices, hospitals and other health care settings. PCC's apprenticeship program allows students to work in a clinical setting part-time while earning their associate degree.
Adame works at the Pueblo Community Health Center, one of three community partners in the program. The others are Centura and Parkview Health System.
"I am so thankful I chose to do this," she said. "It's challenging finding a job that can work around school schedules and this gives me all the flexibility I need. I work part time and have the rest of my time to focus on homework."
Adame said she enjoys the people and the environment at the health center. Once she completes her degree, she hopes to stay with PCHC to get more experience. 
"I talk with many of the medical assistants at PCHC and they think this program is great. They wish it had been offered when they went to school," she said. 
"I really like how everything I learn in school I can apply at work right away. I remember things better with a hands-on approach. Being able to practice things repeatedly really helps me remember things better. I get to see and learn something new every day."
Related Articles
"There's a radiology quote: 'We are the eyes of medicine.' ... I like to explain my job to patients by telling them that I'm their photographer," said Diamond...
Mike White is a paramedic but you won't see him riding in an ambulance. Instead, you'll find him working in the emergency room at Parkview Medical Center. The...