PCC Welding Club members win statewide competition
Four students in PCC's SkillsUSA Welding Club took top honors at the SkillsUSA state leadership conference and qualified for the national competition this summer.
The three-member fabrication team of David Niemet, Fabian Llaguno and Alan Aparizio-Apodaca and individual competitor Marco Rodriguez-Sena won gold medals at the competition that was held April 6-8 in Colorado Springs.
Each member of the fabrication team won approximately $500 worth of welding equipment and Rodriguez-Sena won a scholarship.
In addition, student Jake Mayes won a bronze medal and a scholarship.
"I'm ecstatic. It's the first time we've had the SkillsUSA club in about five years," said James Jones, a PCC welding faculty member and the club's advisor. "To go and take state was almost overwhelming."
The fabrication team received blueprints and raw materials to build a working platform. They had six hours to complete the project.
Rodriguez-Sena had to run all four welding processes – stick (shielded metal arc), TIG (gas tungsten arc), MIG (gas metal arc) and flux-cored arc – in all positions and create a widget that showed the use of each one.
After a multi-year hiatus, Jones was able to restart the welding club in late 2021. There already are 36 students participating.
"We focus on their skill sets, making sure they're sound and ready for industry," he said. 
The club offers opportunities to practice welding and job interview skills, tour local companies and participate in community service projects. 
Now the club is raising money for the gold medalists to make the trip to the SkillsUSA Championships June 20-24 in Atlanta. Jones estimates they need to raise about $10,000.
The club is seeking sponsors and selling metal art to help with the costs; those who are interested in purchasing items or sponsoring the team can email james.jones@pueblocc.edu or call 719-549-3435.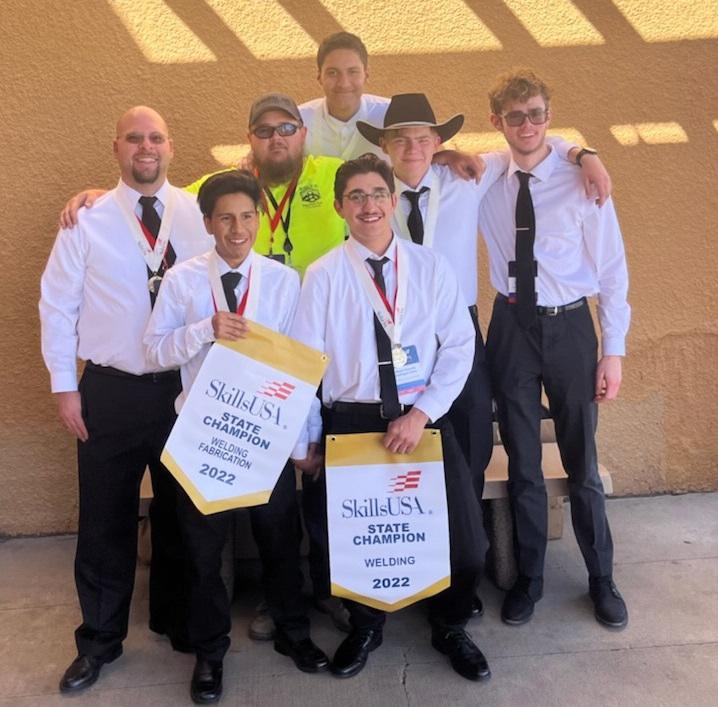 Front: Alan Aparizio-Apodaca, Marco Rodriguez-Sena
Middle (l-r): David Niemet, James Jones, Talon Peterson, Jake Mayes
Back: Fabian Llaguno