Kimberly Hernandez
"What helped me grow most into my career was the criminal justice program at PCC. The classes, teachers and study material fit the program just right, making it not only educational but eye opening in a fun, intriguing way. It made me feel proud to want to represent my community and do a good job in doing so."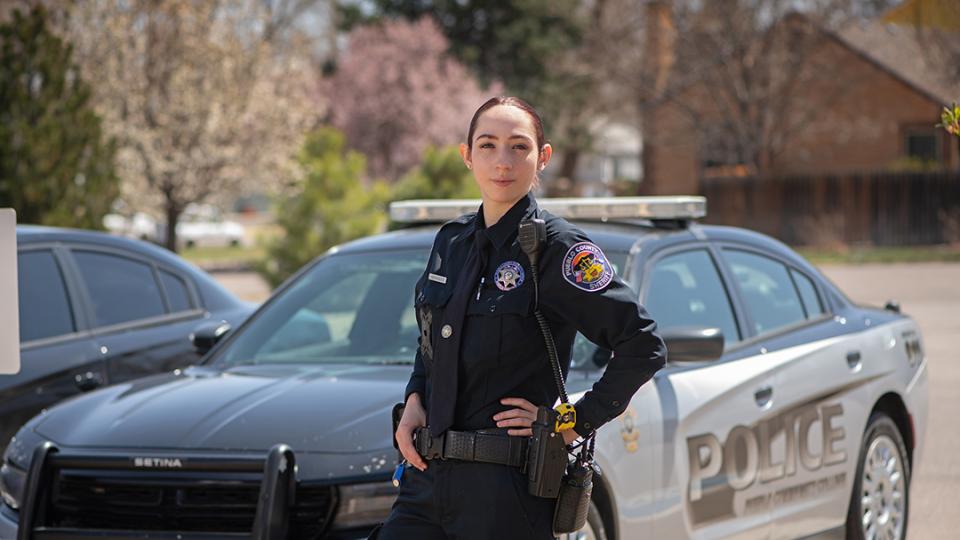 No two days are the same for Kimberly Hernandez. The 2018 PCC graduate works as a detention deputy in Pueblo and thrives in that unpredictable environment.
"What I enjoy most about my work is the challenge, the diversity and the potential to create change," she said. "In this line of work, you never know what kind of day you are going to have or who you are going to be dealing with. You're always interacting with and serving the community."
Hernandez earned her associate degree in criminal justice. She also joined the PCC Philosophy Club and served as fundraising officer and regional communications officer for PCC's chapter of the Phi Theta Kappa Honor Society – activities that ended up providing valuable skills for work and life. 
"With (Phi Theta Kappa), I was able to network with several different leaders from different companies and colleges," she said. "I was also able to become more confident in my public speaking, as I would present speakers, give speeches, and interact with other students in a mentoring capacity.
"(In the Philosophy Club) I learned to debate in an organized and professional setting. This helped me with patience, reliance on muscle memory, and quick thinking when under stress or pressure."
Hernandez said PCC's criminal justice program and its connection to the community enabled her to excel in her profession.
"The classes, teachers and study material fit the program just right, making it not only educational but eye-opening in a fun, intriguing kind of way," said Hernandez. "It made me feel proud to want to represent my community and do a good job in doing so. Without these clubs and the criminal justice program I can't say I would be the same person I am today."
As a detention deputy, Hernandez has a broad range of responsibilities to ensure the safety of inmates and employees. She maintains her assigned area, conducts security checks, writes reports, makes sure the basic needs of inmates are met, assists those in crisis and helps connect inmates with resources.
"It's a powerful career because people look at you for help and when you can do something, or at least try to do something, it really makes a difference, no matter how small. Change one life and that one life will go on to change another's," she said.
Hernandez encourages PCC students to go beyond simply enrolling in classes. 
"Once you enroll and get settled in your classes, keep your grades up and join a club," she said. "No matter what it is, engage and push yourself. Most of my best memories from PCC were because I involved myself in what PCC has to offer."