Earn a health care credential at no cost!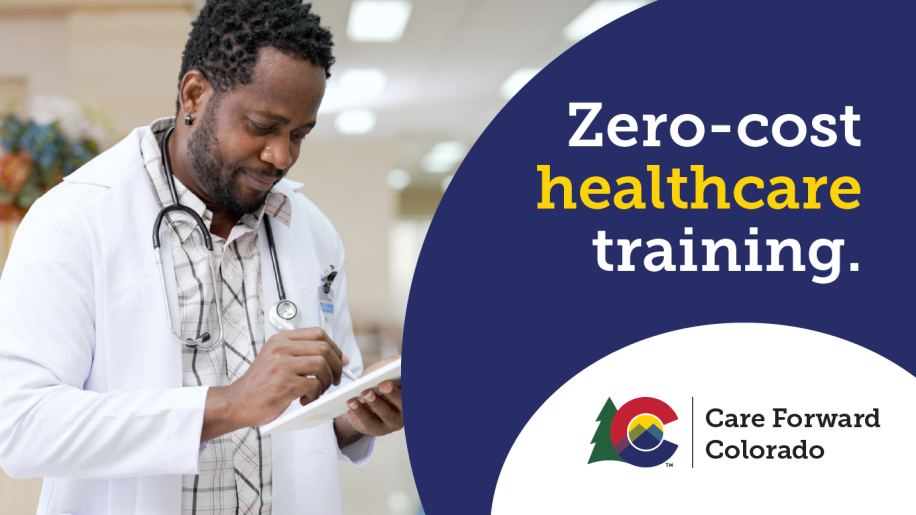 Students who enroll in specific short-term health care training programs at PCC will pay nothing, thanks to the new Care Forward Colorado program.
The qualifying programs available at PCC are:
PCC is expanding its bachelor degree options – all designed with the working professional in mind. Most of our bachelor degree courses are online and clinicals can be designed around your schedule and location. Our bachelor's programs in Dental Hygiene, Radiologic Technology, and Nursing are already operating. For more information, visit out Bachelor Degrees page.
High-demand, Rewarding Careers Helping Others
Healthcare is one of the fastest growing career sectors in the U.S. workforce. There are many opportunities to break into the growing job market from being a paramedic to an occupational therapy assistant. (See a complete list of our programs below.) There is something for everyone! Not only are there choices, but there is also opportunity to be in a high paying rewarding career as well. According to the U.S. Department of Labor, with an associate degree, you can make as much as $80,000 or more depending on the job market and career sector you are working in. 
Why Choose PCC?
Our healthcare programs provide simulated learning in a real hospital setting.
Pueblo Community College's health programs have a unique and innovative partnership with St. Mary-Corwin Medical Center (SMC) that provides our students the opportunity to learn in leading-edge simulated training environments. Our students attend classes at SMC in real hospital settings complete with patient rooms, a nursing station, pill dispensary, special maternity room and an operating room with the opportunity to even learn using a human cadaver. Our innovative learning practices using state-of-the-art simulation not only prepare our students to be successful on the job but also keeps them engaged through active learning. For more information, visit our Simulation Education and Human Anatomy Learning Center page.
Specialized Training Opportunities
Qualified Medication Administration Person (QMAP)
Pueblo Community College is recognized by the Colorado Department of Public Health and Environment (CDPHE) as an Approved Training Entity and is looking for students interested in becoming a Qualified Medication Administration Person (QMAP). This 2 day course will qualify you to administer medications in authorized settings including assisted living residences, alternative care facilities, residential child care facilities, secure residential treatment centers and state certified adult day programs. For more information and class schedule contact: eva.tapia@pueblocc.edu or 719-549-3483.
Certified Addiction Counselor Classes
Pueblo Community College offers Certified Addiction Counselor (CAC) classes. Many of the CAC courses are online and are completed in two weeks. Those interested in enrolling must have a high school diploma or GED. Please note there are changes to CAC training programs and requirements as of April 1, 2021. For more information view our CAC Fall Schedule or email cac@pueblocc.edu.